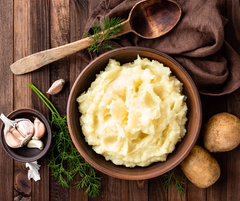 Ingredients:
2 lbs Yukon Gold potatoes, peeled and cut into 1-inch chunks
8 cloves of garlic, peeled
2 tsp salt
Directions:
Boil water in large saucepan, and add potatoes, garlic and salt.  Simmer until potatoes are tender (about 15 minutes).
Drain potatoes and garlic, and reserve 1 cup of the cooking liquid.
Mash potatoes and garlic, and then beat in butter extra virgin olive oil.  Use the cooking liquid to thin the mashed potatoes to your desired consistency.  Season with salt and black pepper if desired, and serve!