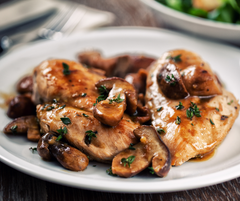 Ingredients:
4 skinless, boneless chicken breast halves (about 1.25 lbs)
Salt and ground pepper(to taste)
¾ lb small to medium mushrooms
2 Tbs flour
4 cloves garlic, peeled
¾ cup chicken broth
1 bay leaf
½ tsp minced fresh thyme or ¼ teaspoon dry
1 Tbs butter
Directions:
Cut away any fat from chicken breasts, and sprinkle with salt and pepper.
Rinse, drain and pat mushrooms dry.
Add salt and pepper to the flour and dredge chicken breasts in the mixture, shaking off any excess.
Heat oil in a skillet over medium-high heat and cook chicken breasts until nicely browned on one side, and then add garlic.
Turn chicken and scatter mushrooms over top. Shake skillet occasionally so that mushrooms cook evenly.  Let cook for about 3 minutes and then add the garlic dark balsamic vinegar, chicken broth, bay leaf and thyme.
Cover skillet and cook over medium-low heat for 10 minutes, turning the chicken occasionally.
Transfer chicken to a serving platter and cover with foil.  Continue cooking the sauce with mushrooms uncovered for about 7 minutes over medium-high heat.  Swirl butter into sauce mixture.
Remove the bay leave, and pour sauce mixture with mushrooms over the chicken and serve.