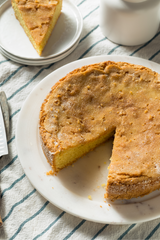 Ingredients:
3 large eggs
¾ cup granulated sugar
½ cup vanilla olive oil
½ cup whole milk
½ teaspoon vanilla extract
¼ teaspoon almond extract
1½ cups all-purpose flour
1½ teaspoons baking powder
½ teaspoon kosher salt
Directions:
Preheat oven to 350°F (180°C). Spray an 8-inch round cake pan with baking spray with flour; line bottom of pan with parchment paper
In the bowl of a stand mixer fitted with the whisk attachment, beat eggs and sugar at high speed for 30 seconds. Add oil in a slow, steady stream, beating until combined. Add milk, beating until combined. Reduce mixer speed to low. Beat in extracts.
In a medium bowl, whisk together flour, baking powder, and salt. Gradually add flour mixture to egg mixture, beating until combined, stopping to scrape sides of bowl. Pour batter into prepared pan.
Bake until a wooden pick inserted in center comes out clean, 30 to 33 minutes. Let cool in pan for 5 minutes. Remove from pan, and let cool completely on a wire rack. Brush with fresh olive oil just before serving. Store at room temperature wrapped loosely in foil or plastic wrap.