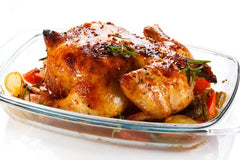 Ingredients
2 Tbsp butter
1/2 C Herbs de Provence olive oil
4kg (3 pounds) whole chicken
2 tsps dried thyme
2 tsp dried rosemary
Salt
Black pepper
3 cloves of garlic, unpeeled
3 large carrots, cut into short sticks
4 large yellow potatoes; quartered
1 lemon, half cut in tiny wedges and the remaining half in slices
3 celery sticks, cut into short sticks
3 tsps cornstarch
Directions
Preheat oven to 350 degrees Fahrenheit.
Wisk together Herbs de Provence olive oil, thyme, rosemary, salt and pepper. Set aside 2 Tblsp of the mixture. Season entire chicken with mixture.
In a pot (ideally stove and oven proof), melt butter and a teaspoon over low-medium flame. Brown the chicken on all sides until golden brown.
Remove the chicken from pot and stuff the cavity with garlic, carrots and lemon wedges.
Transfer the chicken to the pot (breast side up). Toss the remaining vegetables with extra olive oil and herbs mixture. Add veggies to pot with chicken, surrounding the bird. Cover the pot with a lid and transfer to the preheated oven.
Roast the chicken for an hour or until the juice runs clear when you prick the thickest part of the chicken with a fork.
Remove the chicken from the pot onto a plate and remove the content of the cavity (except for the lemon wedges) back to the pot. Cover the chicken with an aluminum foil while resting.