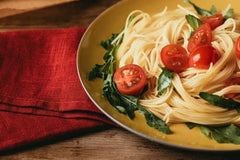 Ingredients
1lb linguine/spaghetti (Try our handmade Garlic Basil Spaghetti!)
½cup Italian Herb Olive Oil
12oz grape tomatoes, halved
1/2cup shredded parmesan cheese
4garlic cloves, crushed
1tbsp crushed red pepper flakes
1cup finely chopped fresh parsley
½ cup of Kalamata olives, halved (optional)
10 fresh basil leaves, chopped
Zest of 1 lemon
Salt and pepper to taste
Directions
Cook pasta as instructed.
While pasta is cooking, heat olive oil in pot on medium heat. Add garlic and a pinch of salt and stir continuously to avoid burning the garlic. Add parsley, tomatoes and crushed red pepper flakes.
Strain pasta when ready. Add olive oil sauce and toss. Sprinkle cheese, basil and lemon zest and juice (optional), and olives (optional) on top! Enjoy!