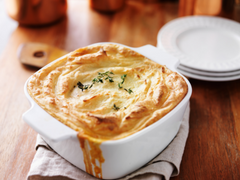 Ingredients:
2 large carrots
1 bunch of fresh cut green beans
2 onions
Butter Olive Oil
1 3-4lb lamb shoulder on bone
Sea salt and black pepper
¼ C Garlic Balsamic Vinegar
2 heads of garlic
4 ½ cups of chicken or bone broth
3 sprigs of thyme and rosemary
Mashed Potatoes:
6-8 large golden potatoes, peeled
¼ C of Milk
2 Tblsp Butter olive oil
Directions:
Peel carrots and potatoes. Cut carrots into cubes and potatoes into quarters. Thinly slice onions.
Boil potatoes in salted water for about 20 minutes or until tender. Strain in colander and transfer into new bowl. Mash the potatoes with a masher. Mix milk and olive oil together and fold into potatoes until well combined. Add salt and pepper to your liking for seasoning. Set aside.
Preheat oven to 350 degrees F.
Heat a pan on the stove on medium heat and drizzle with Butter olive oil. Season lamb with salt and pepper and brown all sides slowly in heated pan. Once browned, remove and set aside.
Add carrots and green beans to pan and cook on high heat until browned. Remove and set aside.
Now add onions to pan with balsamic vinegar and let reduce in volume by about one third. Transfer into a baking casserole dish or dutch oven.
Place heads of garlic and lamb shoulder into dish with onions. Add stock, thyme and rosemary and cover. Place in oven for 1.5 hours. Spoon juices over meat and bake for another 30 minutes. Remove and set aside until meat is cool enough to handle.
Increase oven temperature to 425 degrees F. Scrape lamb meat into new bowl, discard bones. Strain onions from pot and add to lamb. Spoon in some spoonfuls of juices to lamb and onion mixture and mix. Discard broth, rosemary and thyme and stock.
Now it is time to layer the pie! Spread lamb mixture in bottom of a casserole pan or baking dish. Then spread layer of the carrots and green beans. Lastly, spread layer of mashed potatoes to top it off! Try drizzling some more Butter olive oil and sprinkle some of our Bacon salt on top before putting back in oven for another 15 minutes, or until lightly browned on top!