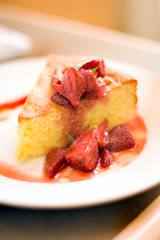 Ingredients:
1 ½ C All purpose flour
1 tsp baking powder
¼ tsp baking soda
¼ tsp salt
¾ C granulated white sugar
¼ C Strawberry EVOO
¼ C milk
1 lemon (zest and juice of)
½ tsp vanilla extract
2 eggs
2 C fresh strawberries (halved)
Directions
Preheat the oven to 350F. Spray a 9″ cake pan with baking spray (or use butter and flour).
In large bowl, combine the sugar, olive oil, milk, vanilla extract, lemon zest, and lemon juice. Mix until combined.
Add in the eggs to wet ingredients and beat until smooth. Add in the flour, baking powder, baking soda, and salt. Beat on medium until the batter is light and fluffy. Pour into your prepared cake pan.
Half the strawberries and arrange them on top of the cake, starting in the center and working your way out until the entire top is covered.
Bake the cake for about 45-55 minutes uncovered. Check cake at 45 min by inserting a toothpick or clean knife in the center. If it comes out clean, take it out, if it is still wet and jiggy, put cake back in for another 5-10 minutes.