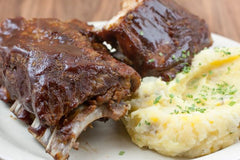 Ingredients:
3 lbs of pork ribs
Marinade
1 C Roasted Garlic EVOO
1 1/2 cups Chocolate Dark Balsamic Vinegar
2 garlic cloves (minced)
salt and pepper
Dry Rub
1 Rack of pork ribs
2 tbsp chipotle powder
2 tbsp paprika
1 tbsp cumin
1/2 tsp cayenne Pepper
salt and pepper to taste
Directions:
Combine marinade ingredients and place in ziplock bag with pork rib meat for 24 hours.
Preheat oven to 325 degrees F
Arrange ribs in a 9x13in baking dish
Mix dry rub ingredients together. Remove ribs from marinade and blot dry; discard remaining marinade. Cover ribs with rub mixture.
Cover baking dish with lid or tin foil and bake for 2 hours or until tender.
Once tender, remove from baking dish and put on broiler safe baking sheet so the fat is exposed.
Turn oven to broil and baste ribs with extra marinade mixture that was put aside. Broil for about 3-4 minutes. Baste one more time then serve alongside your favorite mashed potatoes and veggie!