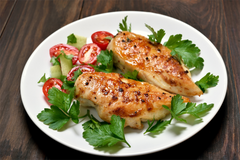 Ingredients:
4 skinless boneless chicken breasts 
4 Tbs Dijon mustard
2 sprigs thyme
Fresh rosemary to taste 
Directions:
Preheat oven to 325 degrees.
Place chicken breasts in large oven-safe baking dish.
Wisk all ingredients together and pour over chicken in dish. 
Bake for 25-30 minutes or until internal temperature is 165 degrees.