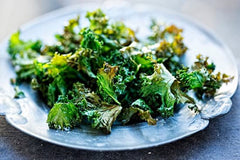 Ingredients
1 medium sized bunch of kale, washed and dried thoroughly
2 tsp of Roasted Garlic Olive Oil
Crushed red pepper
Salt and Pepper to taste
Directions
Preheat oven to 275 degrees F.
Wash and dry kale thoroughly. Once dry, tear off leaves from stems and into small chip size pieces.
Toss kale chips in bowl with olive oil, salt and pepper until evenly coated. Chips will not be completely coated in oil, but that is ok. Too much oil will result in soggy chips, not that nice crispy crunch! Spread on baking sheet, avoid overlapping. Sprinkle crushed red pepper to you liking.
Bake for 10 minutes. Rotate pan and flip pieces that look like they are browning more and bake for another 10 minutes, watching closely to avoid burning. Remove from oven and let dry completely before serving!