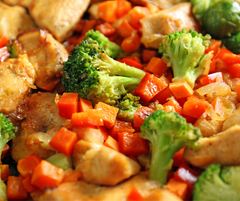 Ingredients:
1 tbsp soy sauce
½ cup honey ginger balsamic (divided)
1 pound chicken breast, sliced an angle into bite-size pieces
2 tbsp coconut oil (divided)
2 cloves garlic, minced
1 sweet onion, halved and sliced
3 bell peppers (red, yellow, orange) all seeded, quartered and sliced
2 cups broccoli florets
Sea salt
Pepper
4 cups cooked brown jasmine rice
Directions:
In a medium bowl, toss the chicken with soy sauce and 2 tbsp. honey ginger balsamic vinegar.  Marinate at room temperature for 15 minutes.
Heat 1 tbsp. coconut oil in a large wok or skillet pan on high heat.  Add garlic, onion, and bell peppers.  Cook for 4 to 5 minutes.  Add the broccoli and continue to cook another 2 minutes.  Transfer to a plate.
Heat the skillet again ad add remaining coconut oil. Add the chicken and stir fry about 4 minutes or until the chicken is cooked.  Add remaining honey ginger balsamic vinegar and return vegetables to skillet and toss to heat.  Taste and season with salt and pepper as desired.  Serve over brown jasmine rice.