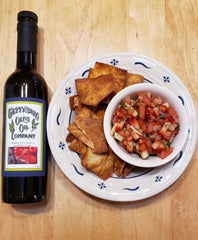 A member of the Gettysburg Olive Oil Co Family, Tammy, who you may have met selling our oils and vinegars over at the Marketplace at Gettysburg, came to me with this idea for a fruit salsa that she wanted to make for a gathering of friends! Our flavor of the month, the Raspberry Cranberry Balsamic Vinegar seemed to be the perfect dressing! Thanks Tammy for your creativity and for sharing this recipe with us! We hope it can be a new festive holiday treat for you and your guests. 
Mix Together:
2 cups diced strawberries
1 cup of diced watermelon
1 cup of diced apples 
¾ cup red onion, (diced small)
2 tablespoons jalapeno, minced (about 1)
½ cup cilantro, chopped
Juice and zest of 2 limes
1 tablespoon Harissa olive oil
1 tablespoon Raspberry Cranberry dark balsamic vinegar 
Salt and pepper to taste
Note:  you can try this recipe with pineapple, mango, and stone fruits like peaches, plums or apricots
Serve with homemade cinnamon chips or we used Stacey's Cinnamon Pita Chips!