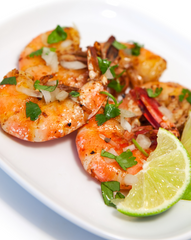 Ingredients:
1 tbsp chili garlic sauce
1/3 cup cilantro, chopped
1/2 tsp sea salt
1/2 tsp ground black pepper
½ lb. peeled, deveined shrimp
2 limes for garnish
Directions:
In a medium sized bowl mix together the olive oil, balsamic vinegar, chili garlic sauce, cilantro, sea salt and black pepper. Add in shrimp and stir to coat. Cover and set in the fridge for 30-60 minutes to marinate.
2. Heat a medium sized skillet or pan on medium-high heat. Pour entire contents of bowl into pan and cook until heated through, about 5 minutes. Serve with a squeeze of fresh lime if desired.