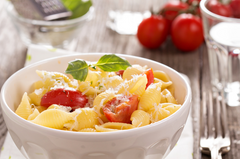 Ingredients:
1 wheel of Brie cheese 
2 cups cherry tomatoes (halved)
2 tsp fresh thyme 
10 oz uncooked pasta
 Directions: 
Preheat oven to 350 degrees.
Cut top off of Brie cheese and set aside.
In a medium to large baking dish toss together the tomatoes, EVOO and thyme and line the edge with them. 
Place the Brie in the middle (drizzle extra EVOO if desired) and bake for about 30-35 minutes. 
While that bakes, make the pasta. When everything is done combine and enjoy.