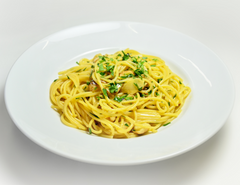 INGREDIENTS
12 ounces any long pasta
3 Tbs Gettysburg Olive Oil Co. Meyer Lemon EVOO
1 large lemon juice and zest
2 Tbs Butter
1/3 cup bright green bunch of parsley
5 cloves of garlic - minced
¼ tsp red pepper flakes
Salt and pepper to taste
Freshly grated Parmesan cheese
DIRECTIONS
Cook pasta until al dente (according to package – about 8 minutes) and reserve 1 cup of cooking liquid.
For the lemon garlic butter sauce, heat lemon olive oil and butter in a large skillet over medium heat until sizzling.  Stir in garlic and red pepper flakes cook and stir for 30 seconds.  Remove from heat.
Once pasta is cooked and drained, return skillet to medium heat. Add pasta and ¼ cup of cooking liquid to the lemon garlic butter sauce; stir until heated through, adding more cooking liquid if pasta is too dry.
Remove skillet from heat and stir in parsley and lemon juice and zest. Season to taste with salt and pepper. Transfer to serving platter or bowl and sprinkle with parmesan cheese. Serve.