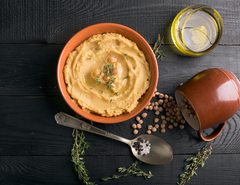 Here is a yummy recipe for your snacking needs! 
Ingredients
1 can of chickpeas
1/3 C tahini
3 Tblsp Harissa Olive Oil
1 tsp salt
2 garlic cloves
Juice of 1 lemon
Directions
Place drained chickpeas, tahini and garlic in food processor and blend. Add Harissa Olive Oil, salt and lemon juice to the mixture until fully incorporated. Serve with fresh vegetables, pita bread or use a sandwich spread!